About Us

ManualMan came on the scene in 1994 as "The Manual Man." It was a fun project between father and son. In 1998 the name was changed to ManualMan. Having a great love in collecting and restoring vintage amateur radio and audio equipment of a by-gone era, the need for equipment documentation was always a very high priority. It quickly became apparent that the replicated equipment documentation being offered at this time by other vendors was not always complete or highly readable. ManualMan felt it could be done better with a much higher degree of quality and much more attention spent on detail, readability, and cost. Our customers have also supported this idea by returning time and time again whenever they needed documentation for their equipment. A sincere thank you goes out to all for their continued support, encouragement, and suggestions over the last several years.

The initial catalog of 300 manuals has now grown to well over 15,000 and this number is growing almost on a daily basis. With advancing technologies, all replicated manuals today are done digitally, to provide the highest quality and readability down to the smallest print size. Heavy covers, lay-flat bindings, and full-size schematics further enhance the quality of the manuals. To quote one customer, "it's hard to believe, your manuals look better than some of the originals". ManualMan also has a large collection of original manuals from a number of different manufacturers that are available.

ManualMan is thrilled to have helped the thousands of people who have come to him for their manuals. Hopefully, he'll be around for a long time to continue to satisfy your manual requests. Thank you for letting ManualMan always be your stop for all your manual needs.

You can catch the ManualMan, WA2CWA, using some of his vintage equipment, most weekends on 75 Meters AM or checking into the Vintage SSB Net on 20 Meters on Sundays. When 6 or 10 Meters is open, you can definitely find him on one of those bands. If you hear him on, stop by and say hello.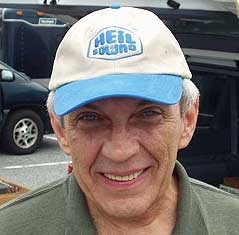 Sincerely
ManualMan
Peter A. Markavage, WA2CWA